So, talking about Pisa. Even though the city is quite cozy to relax in, there is not much else to see but the leaning tower. However, Pisa actually has a lot of interesting wine bars to dive into. Pisa may not be close to a super famous wine region like Florence or Siena but when looking for places to drink wine in, they have a pretty good selection (maybe even better than Florence and Siena!).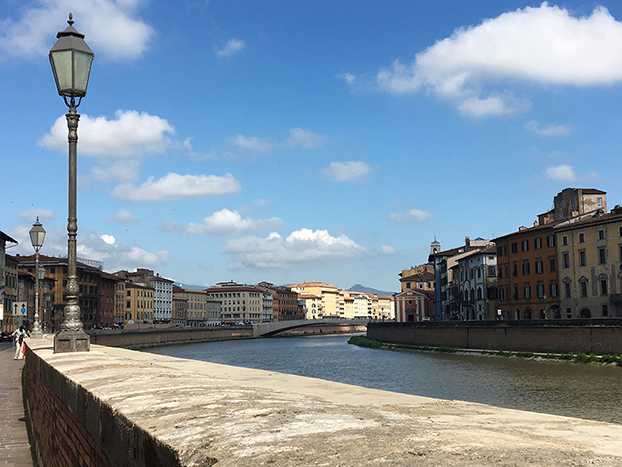 I visited a day in May and after hitting all the classic tourist spots I started the hunt for good wine bars. Here are my top three wine bars in Pisa:
Bistrot San Frediano (Piazza S. Frediano 12)
The first stop was a wine bar/restaurant for lunch. I stumbled upon this place on instagram when looking at pictures with the hashtag Pisa, and they had just posted a picture of some newly arrived wines that captured my interest. The place had an extensive wine list with a lot of fun wines from countries like France, Slovenia and Austria to mention a few (not to common to find wines from other countries here than Italy…). Extra plus for the nice pictures of the wine regions in the wine list. I got a recommendation for a very good, dry Lambrusco and had it with great cheese and cold cuts classical to Tuscany. The wine was so light and fresh – exactly what you want from a Lambrusco.
Cecco Rivolta (Piazza delle Vettovaglie 4)
Stop number two became Cecco Rivolta, a place that did not look too special but when stepping inside the very small bar they had some exiting bottles along the walls, all from famous Champagne producers to lesser known natural producers in regions like Jura and Loire, and from all of Italy of course. Besides all the exiting wines they also served good pre dinner-snacks. The owner was very knowledgeable and recommended great wines. If you like exiting natural wines this would be the place for you.
La Gallina Nera (Via Camillo Benso Cavour 29)
After some more walking around it was time for late dinner. La Gallina Nera translates to the black chicken. In Tuscany there is a lot of talk about Gallo Nero, the black rooster, which is the symbol of Chianti Classico. The selection of wine here was not as good as at the other places; however they had some goodies at a reasonable price. The wine for the night became Occhipinti's Frappato, from Sicily.
So when visiting Pisa, don't spend too long time trying to take the perfect picture of the leaning tower, spend it at some of the great wine bars instead!