I first tried a Riecine wine last time I was in Tuscany, September 2017. It was their Chianti Classico and I was quite amazed over the elegance the wine had – very light bodied and almost floral, not what I usually find in Sangiovese-based wines since most of them tend to be a bit more full bodied with ripe fruit flavours (at least when buying them in Sweden…). A few months later I came by another one of their wines, Riecine di Riecine, at a tasting in Stockholm and I was stuck. It was something about the light and pure character about the wine that made me intrigued.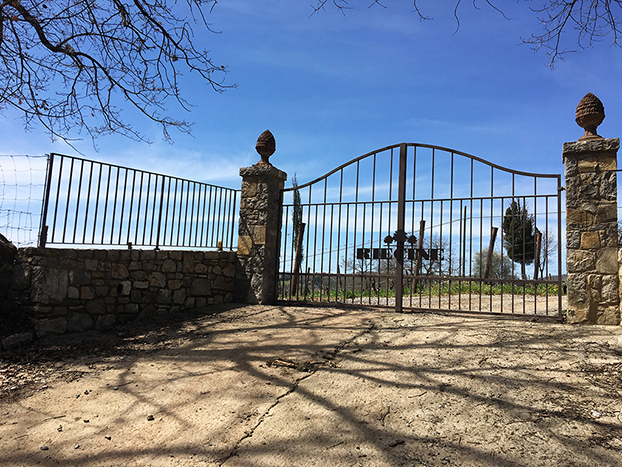 When moving to Tuscany in March 2018 it felt like a necessity to visit the Riecine winery and learn more – so in April I went. First let's talk some background. The Riecine as we know it today was founded in 1971 but wine has been made here for a long time since the vineyards used to be owned by a close by monastery. The winery is based in Gaiole-in-Chianti, the eastern part of Chianti Classico. Here they have just over 20 ha, some of them their own and some plots rented. Today they produce about 65.000 bottles each year but are hoping to raise their volume soon. About 80% of the wines are being exported.
So winemaking. Most of the fermentation takes its place in cement vats and all is done with the grapes natural yeast. Since this will give the fermentation a slow start it also helps the wine receive its perfumed aromas with a few days cold maceration before the fermentation kicks off. The newest investment would be the cement "eggs" (cement tanks in the shape of an egg) that supposedly moves the wine inside naturally, all the time, because of the unique shape. The ageing in oak here is mainly made in tonneaux, all from French oak.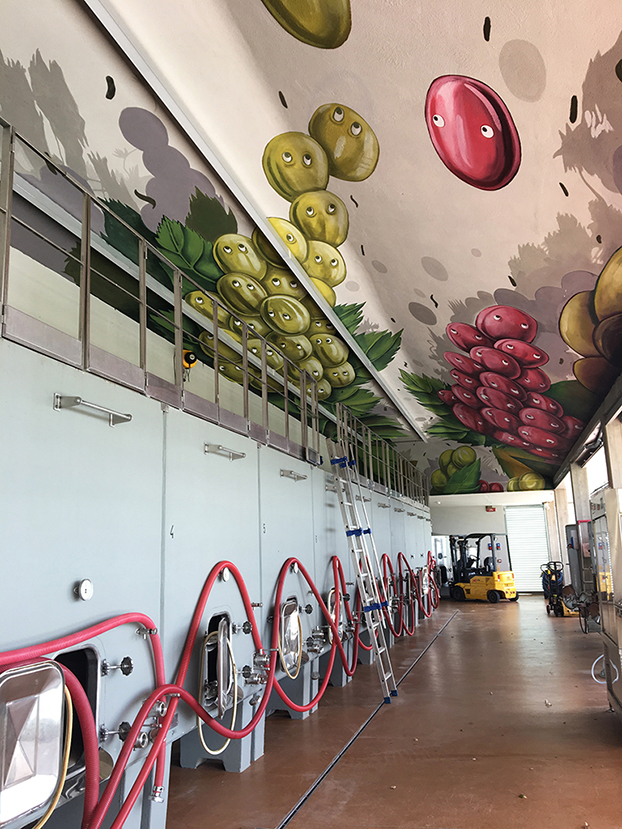 Trying the wines was amazing. Starting with their rosé from the dry vintage of 2017 made from 100% Sangiovese and all through to the sweet wine I was impressed. The rosé was so fresh the acidity would almost pop in your mouth. A very clean type of rosé with fresh fruit flavors like cranberry gave the wine a bit more structure than you usually credit rosé wines for having. The Chianti Classico 2016 was a delight as always with a good balance between ripe and fresh/acidic fruit and a light body. The Merlot of 2016 (just to be released for the first time when I visited) was surprisingly good although maybe a bit too sweet in its fruit flavors for my personal taste (may have had too much Sangiovese lately..?). This vintage came in 2000 bottles; if it gets popular it will probably get more volume in the following years.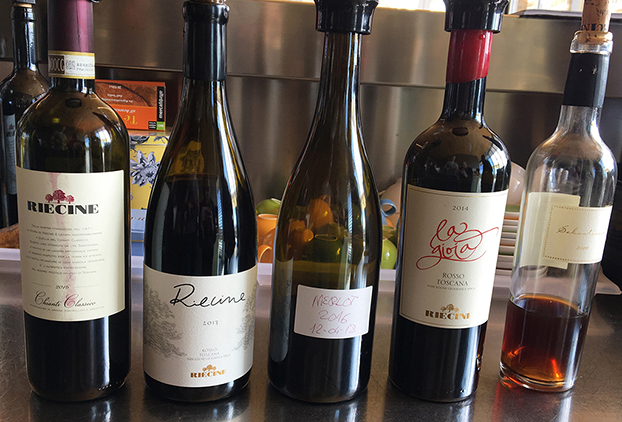 Their "super tucan" wine is called La Gioia and is made from 100% Sangiovese from the best plots. The skins will macerate for 30-40 days and the wine is aged in French tonneaux barrels (40% new) for 30 months. The 2014 I tried was described as a bit lighter than usually but tasted just fine to me. Light body, of course more ripe fruit flavors and a long, almost salty, finish. Their sweet wine is called Sebastiano, I tried the vintage of 2001. It is made from Trebbiano and Malvasia (like most sweet wines of the region) and it is of course a passito, so made from dried grapes. It ages for 10 years in oak but unlike the classical sweet wine of the region, Vin Santo, here they actually top up the barrels to prevent too much oxygen to get in contact with the wine. Another big difference from the Vin Santo is the oak barrels; Riecine uses barriques, while Vin Santo is usually aged in barrels around 100 l (not bigger than 300 l by law in Chianti Classico). It was very light and elegant for a sweet wine, with hints of nuts and candied orange.
The highlight of the tasting was the IGT wine though, Riecine Rosso Toscana 2013. It is fermented in cement, 5000 l vats with open tops, and aged in oak barrels for 30 months. Like most wines here it is made from 100% Sangiovese and they talk about this wine as their most typical expression of Sangiovese, Riecine and Gaiole-in-Chianti. The grapes comes from Chianti Classico vineyards, the reason it is not labeled as such is the Burgundian bottle shape – quite interesting. The wine is so elegant and complex that I don't know where to start. Both the color and the body are extremely light. It is perfumed with soft red fruits and dried flowers. The tannins and the acidity are very well balanced… I ended up buying a bunch of them. Who could resist?