The city of Bologna in Italys Emilia-Romagna region is called "La Grassa", meaning the fat one. That refers to all the good food there is to try here. Many say that Bologna is Italys food capital and indeed they do have a nice amount of good foods to try while here! See my top 10 foods not to miss when in Bologna below. If you want to find the best spots for eating in the city you can read my old post about restaurants/bars in Bologna.
Spaghetti alla Bolognese
You are very unlikely to find Spaghetti Bolognese in Bologna or its neighboring towns, simply because it is not called Spaghetti Bolognese here. Instead it is called Tagliatelle al ragù and it is quite different from the one you might have tried before… First of all tagliatelle is another type of pasta, flat compared to spaghetti, and secondly the ragù-sauce is often not a sauce at all but a very thick ragu made from meat and root vegetables, usually with no or little tomato sauce. None the less, it is very good and very classic for the region.
Lasagna
Bologna is said to be the home town of lasagna (even though many other places have tried to claim that they are in fact the real home of the famous dish). If you have not tried lasagna before it is made from flat pasta plates, a meat ragu and a cheese sauce called béchamel. In Bologna it is common to have green pasta plates and to call the lasagna "Lasagne Verde", meaning green lasagna. The green color comes from spinach.
Tortellini in brodo
Tortellini is very common here, in many different forms. My favorite one (and a very classic dish) is Tortellini in brodo, which is tortellini in broth. Tortellini are small meat-filled pastas and they are served in a savory broth that you can top with the local cheese, Parmigiano Reggiano for extra flavor.
Mortadella
Mortadella is one of the most famous foods of Emilia-Romagna and it is a charcuterie, a very big cooked pork sausage served in thin slices. It is often flavored with various spices, like black pepper, olives and pistachios. It is a very creamy type of sausage/salami with a mild flavor.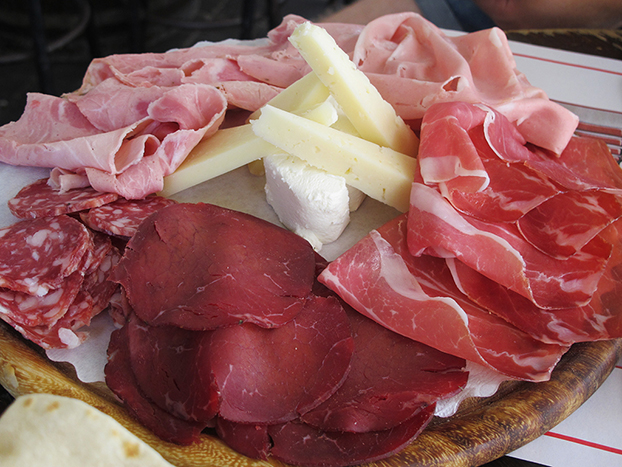 Prosciutto di Parma
This meat is also known as "parma ham" and comes from the hind leg of a pig. Unlike Mortadella it is not cooked but what you call "crudo", meaning it has been salted and dry aged. Prosciutto is made in many regions of Italy but the parma ham is the one most well known and it's a must try when in Bologna.
Parmigiano Reggiano
Who hasn't heard of this cheese? Made from cow milk and aged for a minimum of 12 months it is hard, salty and very flavorful. By now it is protected as a DOP (a food from a protected area), so made by specific rules in a specific region to protect this unique cheese. It is made around the Parma and Reggio villages of Emilia-Romagna, hence the name.
Balsamic vinegar
Balsamic vinegar of high quality is made mainly around the village of Modena in Emilia-Romagna and it is a special product. Made from grape must that is cooked over a few days to become concentrated, sticky and brown and then aged in oak barrels. The famous DOP-vinegar has to be aged in barrels for at least 12 years before it is sold. By then it will be very flavorful and also very sweet with a good acidity. It pairs well with salads of course but in my opinion better with fresh fruit like strawberries or peaches, or why not an aged cheese like Parmigiano Reggiano?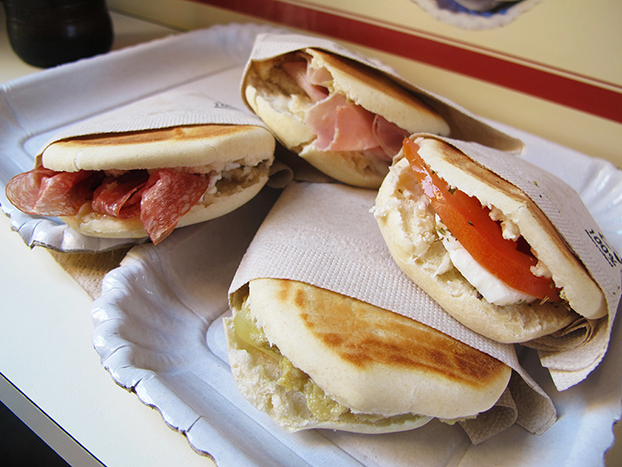 Tigelle
Tigelle is a type of bread, also from Modena, which is quite small and often filled with a lot of different fillings like meat, cheese and vegetables. If not filled it is a great bread to eat with your antipasto platter. Not as well known as most foods from the region, but definitely worth trying!
Gelato
Okay so most Italian regions make amazing gelato but that is not a reason not to try it in Bologna, especially not after having a lot of salty and savory food all day long…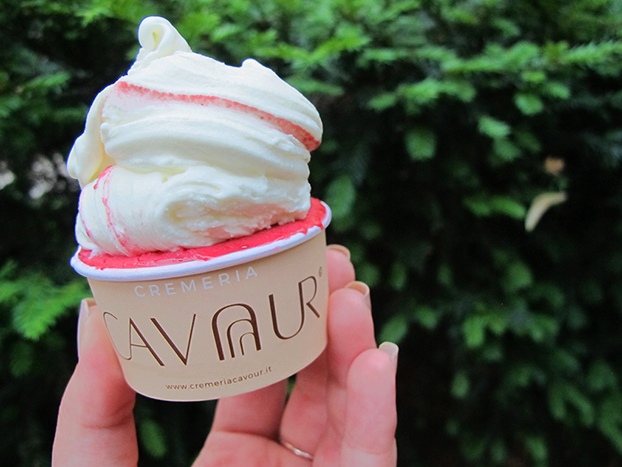 Lambrusco
Emilia-Romagna has a lot of good wines too, not only food. Lambrusco is one of the local wines, a red sparkling wine. Usually it is sweet and heavy, but skip those and go straight for the ones with a rosé color and without sugar. They can be very good, especially with the local cold cuts.
If you are still looking for more local food to try, take a look at this map with all DOP- and IGP-regions for food in Emilia-Romagna. DOP and IGP mean that the food product is protected and made in a certain way from a specific region and often that special food has a long history in the region. Worth looking for!